Super Freakonomics, Illustrated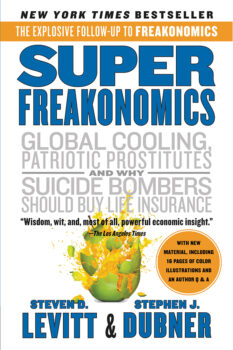 SuperFreakonomics was an instant New York Times bestseller that caused a media uproar, continuing the amazing success begun with the groundbreaking, worldwide sensation Freakonomics.
With the Illustrated Edition, Steven D. Levitt and Stephen J. Dubner bring alive their smart thinking and great storytelling with an explosion of visual evidence, including:
A by-the-numbers tally of a high-priced call girl's career, and a tracking sheet from an intensive survey of Chicago street prostitutes.
A visual quiz that lets you pit your memory against the memory of a chess grand master.
Images of the hurricane-killing machine and other geo-engineering inventions described in SuperFreakonomics.
A look into whether doctors are better at saving lives in TV dramas or in real hospitals.
Whether probing the intricacies of sex change operations, the effectiveness of child car seats, or what really motivates people to do good, the Illustrated Edition of SuperFreakonomics employs photographs, drawings, and graphs that will lead readers to see the world in a bold, fresh way.
R Programming Bundle: 25% OFF
Get our
R Programming - Data Science for Finance Bundle
for just $29
$39
.
Get it now for just $29